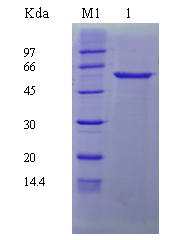 产品名称:丙酮酸激酶 PKM2
产品简介: 本品是大肠杆菌表达,并高度纯化的去标签重组PKM2。
产品名称
Recombinant human pyruvate kinase M2 from E.coli.
产品概述
Pyruvate kinase (PK) is a key rate-limiting enzyme of glycolysis which catalyzes the final step of glycolysis. It converts phosphoenolpyruvate (PEP) to pyruvate while phosphorylating ADP to ATP. There are four isoforms of pyruvate kinase, including PKL, PLR, PKM1 and PKM2. PKM2 is expressed in β-cells, where it is the most abundant glycolytic enzyme. Unlike the other isoforms, the catalytic activity of PKM2 is directly linked to the enzyme's quaternary structure; tetrameric PKM2 has high catalytic activity, whereas monomeric and dimeric PKM2 have low catalytic activity. It is considered as a key regulator of Warburg effect. PKM2 also functions as a transcriptional co-activator or a protein kinase to regulate tumorigenesis. PKM2 is expressed in some differentiated tissues, such as lung, fat, retina, and pancreatic islets, as well as in all cells with a high rate of nucleic synthesis, such as normal proliferating cells and embryonic cells. Regardless of tissue origin, most cancer cells have increased expression of PKM2, which positions PKM2 as an attractive target for cancer therapy.This product is expressed in E.coli and remove His tag during downstream purification process.丙酮酸激酶(PK)是糖酵解三大关键酶之一,有4种同工酶并呈组织特异性,分别为L型、R型、M1型和M2型,通常均以酶活性四聚体形式存在。其中M2型主要表达与肺正常肾脏远曲小管、胚胎和未分化或增生组织。当恶性肿瘤发生时,PK组织特异性同工酶(L型、R型、M1型)表达减少,在癌基因编码激酶作用下,肿瘤M2型丙酮酸激酶(PKM2)可在肿瘤细胞中呈过表达并且其Ser和Tyr位点均发生磷酸化,使得原先具有高度活性四聚体解离成无活性二聚体形式,并占据主导地位。
产品外观
Sterile Filtered clear solution.
技术指标
M. W.: Approximately 58 kDa containing 530 amino acids.
Quantity: 100μg
N-terminal: SKPHSEAGTAFIQTQ
Purity: > 95 % by SDS-PAGE and HPLC analyses.
Formulation: 0.2μm filtered concentrated solution in PBS, pH 7.4, 20% glycerol.
Endotoxin: Less than 1 EU/μg of rHuIFN-γ as determined by LAL method.
保 存
It is stable at 2-8℃, but should be kept at -20℃ for long term storage, preferably sealed. The diluted preparation is stable for up to one week at 2-8℃. Avoid repeated freeze/thaw cycles.
使 用
This material is for research, laboratory or further evaluation purposes. NOT FOR HUMAN USE.